As I took pictures of my Tuesday foods for the weekly What I Ate Wednesday blog party hosted by Jenn at Peas and Crayons,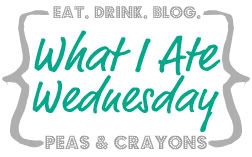 I noticed just how many different types of beverages I consumed in a day.  So, I present 'The Various Beverages Drank by Michelle on a Tuesday:"
Beverage 1:
Green Jasmine Tea (while reviewing my numbers and pattern skills on Team Umizoomi).  Has anyone noticed that I drink out of the same cup every morning?  Am I the only one that has a favorite mug?  Please tell me I'm not alone….
Beverage 2:
Vegetable Juice – blend of kale, celery, beets, parsley, apple, ginger and lemon – while taking the little guy to preschool.
Beverage 3 and Meal 1:
Drink Chia (won a case from a giveaway on Laura's blog) Honeysuckle Pear with a banana and some almond butter/buckwheat/chia seeds.
Beverage 4 and Meal 2:
Iced Tea and Field Greens topped with Creamy Citrus Ginger dressing and hemp seeds.  While playing outside with the kids. It was pajama day at my girl's school, in case you are wondering why she is wearing a nightgown outside at 3 pm.  It was poor time management on my part, in case you were wondering why I didn't eat lunch until 3 pm.
Beverage 5:
Carrot, Beet, Apple and Ginger Juice
Beverage 6:
Kombucha (home brew with cranberry pomegranate juice)
Meal 3:
Random dinner of sauteed veggies (summer squash, onions, carrots, celery and garlic) topped with sauteed chickpeas (marinated in tamari, garlic and olive oil) and feta cheese.
Beverage 7:
Cold Pinot Grigio with some dear girlfriends at a local Wine Bar. I adore these ladies. We can seamlessly cover a myriad of topics without missing a beat and without sparing a laugh.
Seven different drinks in one day – should I be impressed or embarrassed? It was a pretty good day, so I'll go with content. :) How many different drinks do you consume in a day?