For this week's What I Ate Wednesday post (hosted by Jenn at Peas and Crayons),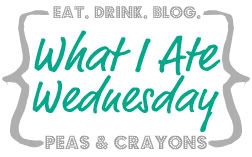 I'm showing off with just how many different brown foods I can eat in one day. It wasn't planned.
I started the day colorfully enough as I packed the kid's lunches:
(Tuesday's my little guy goes to preschool, so I do double lunch duty)(ps – duty is a hi-lar-ious word to the previously mentioned little guy)
The girl got: mangos+kiwi+ cucumber, carrots + celery + tomatoes, yogurt, granola + almonds (for the yogurt), cheese + tortilla
The boy got: cheese + tortilla, cucumbers + broccoli, mangos, pirate's booty
I made some (green but looks brown) tea and drank it as I dropped off my little kindergartner.
I came home and had some green juice.
Juice: celery, carrots, ginger, lemon, apple, collard greens
 I've started making a double juice batch and saving half for the next day.  The juice may not be quite as healthy on day two, but my day off from cleaning the juicer is certainly good for my mental health.  I fill the bottle up to the very top to minimize air and hopefully minimize oxidation of the nutrients.  Really I just wanted to use the word 'oxidation' in a post.  It makes me feel smart.
I packed some brown snacks for the gym,
a loose version of double chocolate protein bites and water
made a very unattractive brown/green smoothie,
collard greens, carrot, blueberries, peaches, coconut milk, frozen banana and a half scoop of Vega Chocolate powder 
and took the boy to preschool.
My lunch kept the brown and green color theme.
Almond Roasted Cauliflower (from Let Them Eat Vegan) and Kale Salad topped with chickpeas and feta
As did my iced tea (brown! with a green straw!) on the way to pick up the kids from their schools.
I want to go back to preschool.  Why?  Because you get to do crafts like this:
tell me that doesn't make you smile….  'He' is our new centerpiece.
I had some brown pecans.
I baked some brown Chia Banana Muffins (also from Let Them Eat Vegan).
For dinner the husband and I had Chickpea Burgers, Popcorn Fries (from Eat Drink and Be Vegan) and veggies.
The kids had Create Your Own Adventure Dinner plates with whatever produce I could quickly pull out of the fridge.
They don't like the chickpea burgers, but will eat plain chickpeas happily.  But only if you refer to them as yum-yums.  And, no, I'm not sure how they got that name.  And, no, we don't make a habit of giving things cute names – I'm a stickler for proper language and identification.  And, yes, I'm a buzz kill like that.  What do you expect from someone who likes to work the word 'oxidation' into a blog post??
For my after dinner, 'the kids are asleep and the whole worldwide web is at my fingertips' snack, I had some (brown) Licorice Mint Tea and some new-to-me Ghiradelli Dark Chocolate and Sea Salt Caramels.  They are dangerously good.
Oxidation, oxidation, oxidation.
that felt good….