For this weeks What I Ate Wednesday hosted by Jenn at Peas and Crayons,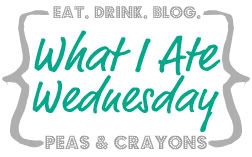 I'm posting What They Ate on Halloween, they being my 6 year old daughter and 3 year old son.   Or, keeping with the day's spirit, A Day of Food in the Life of a Queen and Spiderman.
Because I knew they'd be consuming some trick-or-treat candy, in all it's refined sugar, artificial color & flavorings, corn-syrup containing, no-nutritional-value-unless-you-count-the-peanuts-in-snickers glory, my approach was to load them up on good stuff throughout the day, right up to the moment I unleashed them onto the streets of our neighborhood.  I also wanted to make it fun.  I like doing theme dinners for holidays, like my Valentine's Day Pink and Red Dinner and green foods for St. Patricks Day.
Breakfast:
oatmeal + cinnamon+ coconut milk + halloween sprinkles
Lunch
For The Girl
pear, carrots+peas+corn, avocado, pumpkin shaped pb&j
For The Boy
celery + carrots+ cheese quesadillas
'boo!'
After school, we headed to Whole Foods and did their little Halloween Scavenger Hunt.  They got to go to each section of the store and trick or treat.
Look at the goodies they got (for free):
Lucky for me, they don't like dark chocolate.  :)
It almost makes up for the crazy high prices of that store.  Almost, but not really.
After also picking up the normal free kid's snack from the customer service desk, they got to eat it  in the car.  My girl chose fruit leather,
and the boy chose a juice box.
Miraculously, none of it ended up on his shirt or the seat.
Dinner
We came home and ate a Halloween-themed tostado dinner.  (I'm all about the tostados lately).
I present….
The Jack-O-Tostado
Tostado+Guacomole+Carrots+Beanito Chips+ Red Pepper
The Tombstone
Tostado + Refried Beans + Baked Corn Tortilla in the Shape of a Tombstone
The Spider 
Beanito chip, refried beans, carrots
You could definitely get more creative with these, but the kids were anxious to eat and get outside.  There was candy to be had!
Can you feel the anticipation?  They also had a pumpkin shaped jello jigglers and some mangos and tangerines.
The Main Event
Okay, the WIAW part is over, but I thought I'd share some pictures from the night:
A Queen (don't call her a princess, unless you want to be corrected) and Spiderman
We trick or treated with some neighbors – smurfette x 2 + a queen
Family Photo
 The neighbors handed out pumpkin martinis again.  Mmmm.
The Loot
Hope you all had a happy halloween!