It is yet another Wednesday, and time for What I Ate Wednesday hosted by Jenn at Peas and Crayons.  I've gotten my days straight this week, unlike last week.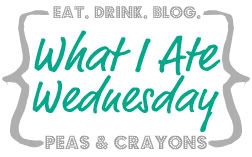 Also – thanks so much for all the feedback on my haircut post.  Next time I'm having a low self esteem moment, I'm heading over to read those comments.  Which means they'll get read quite often.  :)  I will post pictures soon of my new 'do!
Back to the WIAW at hand…
I took pictures of my day of food on Monday.  Somehow I managed to use just about every appliance in my kitchen.
Breakfast:
Food:
Green Juice (before)
Green Juice (after)
Juice + Tea
Steel Cut Oats + Raisins + Cranberries + Almonds + Walnuts+ Pumpkin Seeds (aka the Jason's Deli salad bar trail mix)
Appliances Used:
Juicer
Stovetop
Lunch
Food + Appliances Used
Kale Salad (dressing made in magic bullet) + Detox Salad (made with food processor)
Snack 
Green Smoothie (via the Vita Mix) – spinach, banana, frozen berries, water
Dinner
Food:
Southwest Falafel's + Creamy Avocado Spread + Salsa + Fruit
Appliances Used:
Crockpot to cook the beans
Stovetop to make the falafels – which turned into a hash after flipping the patties didn't work
Mini-food processor to make the avocado spread
Dessert
Food:
Peanut Butter Banana Soft Serve
Appliances Used:
VitaMix
Unpictured:
Dehydrator to dry some soaked sunflower seeds.
Rice cooker to make rice for fried rice later in the week
Dishwasher to wash the 743 (approx) dishes I used on this day
I think the only appliances that got the day off were my toaster and bread machine.  What can I say?  I love technology!
Thanks for reading!  Now I'm off to unload the dishwasher.  Can someone work on one that unloads itself?  That is an appliance I would love to have.