Happy Wednesday!  It's time for What I Ate Wednesday hosted by Jenn at Peas and Crayons.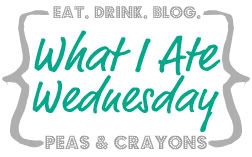 For the last two WIAW posts, I've been showing a day in the life on the Clean Program cleanse (www.cleanprogram.com).  I did almost two weeks of the cleanse and am now coming back to regular* eating.
*I have no idea what regular is.  I eat random foods regularly.  
On the cleanse, wheat, dairy, caffeine, tomatoes and may other things were eliminated.  I'm slowly working some of them back in, watching to see if there is a reaction.  I honestly don't think I have intolerances to any of those foods, as digestive issues aren't something I tend to suffer from, but I'm paying attention as I add them back to my diet this week.
Breakfast:
buckwheat + almond butter, green jasmine tea
More tea (I reuse the tea bag – does anyone else do that or am I just weird?) + grapes
Big Ol Salad with field greens topped with the Detox Salad from Oh She Glows
Kombucha + water
My first sugar in about 3 weeks (besides sugar in the cleanse-allowed fruits).  The most significant thing for me about this cleanse was how it impacted my sugar cravings.  The first week I was having really strong cravings, but this last week I've noticed they've almost totally gone away.  I'm going to try really hard to keep my sugar intake lower than it has been.  Sugar is my weakness and I tend to not be able to stop once I open the sugary floodgates.
I had a small little portion, as it was very rich (and you'd have to be rich to buy those tarts often, as they run about $4 a pop).  Thought the resulting little Pac Man face was photo-worthy.
Dinner:
Vegetable Soup and a small Grilled Cheese
Another thing from the cleanse that I'm going to make an effort to practice more regularly is the idea of putting 12 hours between your last meal of one day and your first meal of the next.  I tend to do mindless snacking at night, after dinner, and I've noticed that cutting it out hasn't been so hard.  When I get the munchies at 8 or 9pm, I've started making a cup of herbal tea and find that tends to squelch them.
Thanks for checking out my WIAW post!
Previous Cleanse Posts:
WIAW – First Few Days on the Clean Program
WIAW – Clean Program Second Week