It's Wednesday, so it's time for What I Ate Wednesday hosted by Jenn at Peas and Crayons.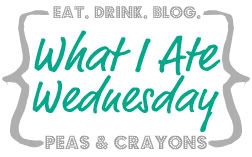 Yesterday my little girl turned 6.  I like to make a big deal about birthdays and fervently hope that I'm creating memories for my kids.  I let the birthday child choose the whole menu for the day.  Here is what my new 6 year old choose for her birthday eats:
Breakfast
Blueberry muffins, orange juice, pears, strawberries and raspberries
Lunch
For lunch she asked to buy her lunch at school, as it was cheese pizza stick day.  I joined her in the cafeteria and ate my first school lunch in many, many years.
 ps – I bet I'm the only WIAW blogger today posting a picture of a school cafeteria lunch….
My tray: pizza cheese sticks (turned out to be bread with cheese inside), marinara dipping sauce, grapes and a kiwi
birthday girl: pizza sticks, kiwi, corn and pudding
I let her choose a dessert today, but she was sorely disappointed with the pudding. I secretly grinned.  One less cafeteria food for her to want….
On the way to pick up the birthday girl from school in the afternoon, I enjoyed a kombucha (this one was my first attempt at a lemon ginger flavor and it was pretty tasty) and an apple.

After school we celebrated at home with some neighbor friends.
She got another chance to blow out a candle.  You can never blow out too many candles.
Cake Pops from Peas and Thank You (I used dairy butter, but followed the rest of the recipe exactly)
Dinner
She chose her favorite meal of Penne with Rosemary Tomato Cream Sauce, Focaccia Bread (heart shaped because I couldn't manage a puppy shaped loaf) and fruit.
After putting her to bed, I enjoyed a cold glass of chardonnay and a stick-less cake pop.  A celebration of my 6 year parenting birthday…
On a totally unrelated note, I just ordered a really cute workout tank from Zulily today – if you haven't checked out the site, you should.  I'd love it if you go through my referral link.