It's Wednesday, which means I get a no brainer blog post topic it's time for What I Ate Wednesday hosted by Jenn at Peas and Crayons.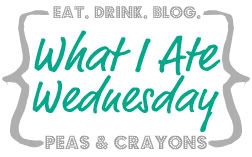 Last week's WIAW post featured a day starting with my daughter's first day of kindergarten and ending with a trip to the Pediatric Urgent Care for my son's croup.  As far as emotions go, it was a doozy of a day.  I cried when I dropped off my daughter, my son cried when he couldn't breath (rightfully so) and my daughter cried with her brother stole her thunder at the end of the day with his whole 'not being able to breathe thing' (the nerve!  on her first day of kindergarten!).  My husband was the sole member of the family to not shed a tear.
This past Monday, a mere 7 days later, was blissfully dull.  No tears.  No urgent care.  Here is what the day DID contain…
Oatmeal + coconut + pecans + chocolate chips, served with a nice, hot cup of green jasmine tea
a fresh batch of Double Chocolate Protein Bites
carrot
Mixed Greens + Roasted Vegetable Orzo Salad with Kombucha
(eaten while waiting in the school pick-up line – don't worry, the car was in park)
vegan mac & cheese (recipe here) and steamed broccoli
banana soft serve + 'magic shell' topping from the Peas and Thank You book (It's a mixture of peanut butter and dark chocolate chips.  And it's addictive)
Once more, for good measure.  Monday's warrant ice cream sundaes, even if there isn't an urgent care visit.
Wishing you a blissfully dull day.  If you like that sort of thing.  If not, I wish you a high-drama day…