It's time again for What I Ate Wednesday, hosted by Jenn at Peas and Crayons.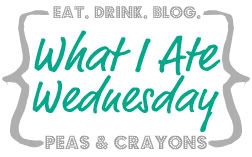 I didn't plan it, but my day of eats turned out to be pretty strongly influenced by Peas and Thank You, which is appropriate considering this is the week that Mama Pea's book comes out.  My copy is somewhere en route from Amazon's warehouse to me, via the slow 'free super saving shipping,' sharing a box with Terry Walter's Clean Start.
First breakfast (before my yoga class) was fruit and a variation of this peanut butter chocolate crunch cookie dough ball from Oh She Glows.  Well, most of those berries…
there was a little berry thief on hand who has smartly learned that mom will not drop her beloved camera in order to swat away sticky little fingers. 
After yoga I had a bowl of oatmeal with bananas and peanut butter
and a green smoothie with spinach, bananas, coconut milk and ice.
Lunch was leftover grilled sweet potatoes that I re-toasted in the oven, a boiled egg, carrots, cucumbers and Mmmm Sauce (from Peas and Thank You).
Dinner was Zucchini Quinoa Lasagna (slightly modified from this Peas and Thank You recipe), Roasted Asparagus with Balsamic Browned Butter (Cooking Light recipe link here – my very favorite asparagus recipe) and fruit.  Like the Buzz Lightyear place mat in the back?    The kids got zucchini-less quinoa filling and tomato sauce.  My kids don't do cooked zucchini.  Can't say I blame them.  This is the only recipe with cooked zucchini that I've actually liked. Roasted asparagus with browned butter, however, causes my husband and I to fight over the last stalk.
Now if I could just get Mama Pea to come over and do my dishes…..