It's Wednesday, so time for the weekly installment of What I Ate Wednesday over at Peas and Crayons.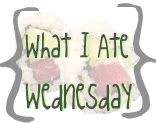 Breakfast
Kids had oatmeal, leftover pumpkin pancakes and/or toast (it is apparently impossible some days for them to want to eat the same thing at the same time), spinach and fruit.
I had collard leaves + almond butter + bananas.
Lunch
The girl's lunch – cheese + tortillas, mini salad bar
The boy had a tortilla, carrots, apples, celery and a cheese stick
I had Curried Quinoa Salad with Chick Peas and Apples atop spinach.  This is one of my favorite recipes lately. It comes together pretty quickly and then keeps well in the fridge for 3-4 days. Yes, I did eat it in the salad container.  Classy I am.  I ate it while reading this beautiful and inspiring blog post.
Dinner
Before
After
Vegan Mac and Cheese from VegNews (after reading about it on the Bucket List Post on Bitt's blog) and steamed broccoli.  This was good and eerily like a dairy based mac & cheese.  It tasted like the mac & cheese you get at buffets or on kid's menus, the type where the sauce is non-descript, salty and creamy and not-so-much cheesy.  You definitely wouldn't confuse it with a homemade mac and cheese with sharp cheddar or more pungent cheeses, but it tastes a lot like the generic mac & cheese dishes that are significantly less healthy.  The kids thought it was just so-so, but I think it's a keeper.  I'll win them over eventually.  I reserved some plain macaroni noodles before mixing the rest with the sauce, since it was a new-to-me recipe and I didn't know how the kids (or I) would like it.  They ended up eating mostly the plain noodles and I ate my plate and one of theirs of the mac & cheese.
Anything exciting in your life going on this week?   Mine's pretty normal so far. Which is fine.  Quite fine.  Totally knocking on wood right now….  :)